Due to its abundance of lakes and rivers, Nebraska is the perfect place to take a moment and enjoy a fun-filled day of fishing!
Its waters are teeming with rich populations of catfish, bass, herring, pike, sturgeon, and so much more.
The state is blessed with many incredible, family-friendly lakes where you can toss your line out, as well as more secluded streams for a moment of peace as you wait for that telltale tug.
Whatever your preference is – and whether you're a highly experienced angler fishing every weekend or a complete beginner just wanting to give it a try – you're sure to find some excellent fishing opportunities in Nebraska.
There's just one thing you need before you can throw your line in: an NE fishing license!
But how exactly do you go about getting one? Don't worry, because we'll you everything you need to know about getting your NE fishing permit!
In this article, I'll be exploring:
The types of people who need a fishing license in Nebraska
Common and special types of fishing license Nebraska offers
Costs associated with each kind of license
Options for where you can get your fishing license.
Let's get right into it!
Who Needs a Fishing Permit in Nebraska
If you'd like to fish in Nebraska, you will need a Nebraska fishing permit. This permit is required for both residents and non-residents as long as you're over the age of 16. Getting the permit gives you access to its impressively broad permissions; you can take sportfish, snapping turtles, mussels, and more from Nebraska waters!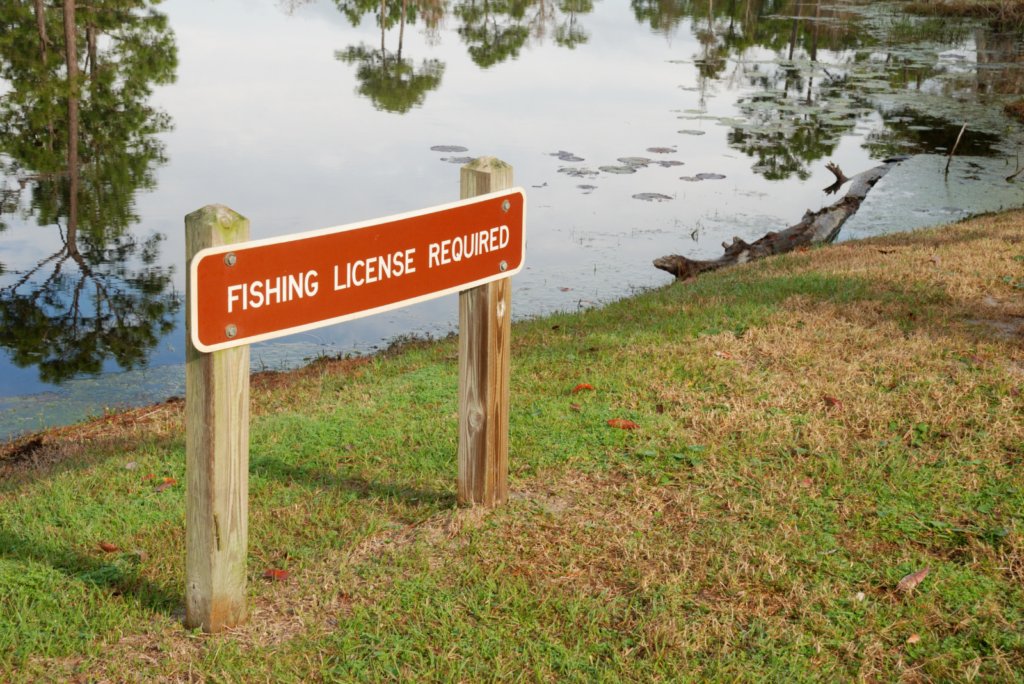 For those of you who are non-residents and are below 16 years old, you don't need to hold a Nebraska fishing permit. However, you do need to be accompanied by someone who has a valid permit.
Remember to always have your permit with you while you're out fishing!
Types of Fishing Licenses in Nebraska
There are two distinct types of fishing licenses in Nebraska that you will typically encounter: the Inland Fishing License and the All Waters Fishing License.
Inland Fishing License
As the name suggests, a Nebraska Inland fishing license allows you to fish within all inland bodies of water in Nebraska. Note that the Missouri River is excluded from this license.
All Waters Fishing License
On the other hand, an All Waters fishing license is like a more powerful version of the Inland fishing license.
You'll not only enjoy all the privileges of the Inland fishing license, but you can also fish in all the other waters of the state. That means you can throw your reel into the Missouri River and the state's saltwater bodies!
Fishing Licenses Costs in Nebraska
Now, we know who needs a fishing permit in Nebraska, and the common types of fishing licenses out there. This leaves one important question: How much is a fishing license in Nebraska?
The exact cost depends on a number of factors such as if you're a resident, the length of time, and other applicable discounts!
Resident Fishing License
Annual: $38
One-Day: $10
Non-Resident Fishing License
Annual: $84
One-Day: $14.50
Discounts (Annual)
Lifetime Senior (Age 69+): $5
Veterans (Age 64+): $5
Disabled: $8
Special Fishing Permits in Nebraska
There are many special fishing permits in Nebraska that are available for purchase. Let's go over some of the most common special fishing permits and habitat stamps that you can buy in Nebraska:
Aquatic Habitat Stamp
Many Nebraska permits require the Aquatic Habitat Stamp, which funds the Aquatic Habitat Stamp Program.
What this program aims to do is improve the conditions for aquatic life and create habitats that protect and rehabilitate sport fish.
Nebraska Habitat Stamp
The Nebraska Habitat Stamp is a requirement for all residents over the age of 16 in order to hunt animals and waterfowl.
For those who would love to hunt while they fish, it's a good idea to buy this stamp beforehand.
Sandhills Fishing Permit
Several of Nebraska's best fishing spots are located within the Sandhills region.
The good news is that this area of Nebraska is home to inland bodies of water that are covered by a standard Nebraska inland fishing permit.
Trout Permit
When it comes to trout fishing in Nebraska, a separate trout fishing permit is required.
A specific Trout Permit is available for purchase at most places where standard Nebraska fishing permits are sold, and it can also be acquired alongside a regular fishing license.
You must possess this permit in order to fish in certain trout waters within Nebraska.
Two-Rod and Two-Line Permit
When fishing in ponds, lakes, or reservoirs with a standard Nebraska fishing permit, a two-rod and two-line limit applies.
This means that you're not permitted to fish in these bodies of water with any more than two lines and two hooks per line.
Note that this rule doesn't apply to ice fishing or fishing within rivers and streams.
Fishing Guide License
A fishing guide, or a person hired by recreational fishermen to aid on fishing trips, requires the same standard fishing license as all other Nebraska residents.
There are also other measures a person must undergo to become a fishing guide, such as a background check and a 4-hour training workshop.
Where to Buy Nebraska Fishing License
When it comes to buying your Nebraska fishing license, there are a few different ways to go about it!
You can purchase your license either physically in many stores or offices, or online. Let's take a look at some of the ways you can purchase your fishing license in Nebraska:
Offline Options
Nebraska Game and Parks Commission Offices
The Nebraska Game and Parks Commission offices may be able to provide you with your fishing license. Offices are typically open Monday to Friday, 8 AM to 5 PM.
Inquire at your local Game and Parks Commission office regarding the purchase of a fishing permit.
Authorized Local Vendors (Sporting Goods Stores, Bait Shops, Etc.)
Many local vendors, such as sporting goods stores and bait shops, can provide you with a Nebraska fishing license.
Standard fishing permits are even available for purchase at Walmart! Just make sure that you're buying from an approved, licensed vendor.
County Clerk's Office
You may be able to purchase your Nebraska fishing license by paying your local county clerk's office a visit.
Either inquire in person or give your local office a call to confirm whether they'll be able to provide you with a fishing license.
Online Options
Nebraska Game and Parks Commission website
The Nebraska Game and Parks Commission website is a great online resource when it comes to purchasing a Nebraska fishing license. You can even purchase your license directly on the website!
Official Nebraska Fish and Game Mobile App
There is an official Nebraska Fish and Game mobile app that you can use to purchase your Nebraska fishing license.
Instructions on how to download this app are available online, and it's a quick and simple way to access information regarding Nebraska fishing and hunting laws.
Online Authorized Vendors or Websites
Like their physical counterparts, there are also several other online vendors and websites through which you can purchase your Nebraska fishing license.
As is the case with in-person, local vendors, you're going to want to make sure that you're purchasing your license from an authorized vendor or website!
Some Open Questions
Who is exempted from possessing a Nebraska Fishing Permit?
Owners of private bodies of water are exempt from a fishing permit if the body of water is entirely inside private land, is privately stocked, doesn't connect to any other outside bodies of water, and isn't operated for profit.
Does Nebraska have Reciprocal License Agreements with neighboring states?
Nebraska enjoys reciprocal access agreements with South Dakota in relation to their boundary waters.
Anyone who possesses a valid fishing license can fish in the boundary, but they're bound by the regulations of their licensing state or the state they're fishing in – whichever is more restrictive.
Does Nebraska offer Lifetime Fishing Licenses?
Yes, Nebraska lifetime fishing licenses are also available. Pricing differs between residents (ages 0–15: $616; ages 16–45: $710; ages 46+: $616) and non-residents (ages 0–16: $929; ages 17+: $1,306).
About Post Author