Due to strict Florida redfish size and bag limits, it's very important for recreational anglers to know when they are in season, and the rules and regulations governing their catch for 2023.
The state of Florida redfish catch limit for a recreational saltwater angler is 1 daily with a minimum length limit of 18″ to and a maximum length limit of 27″.
Redfish season in Florida state waters in the Gulf of Mexico and the Atlantic Ocean is year-round and statewide daily bag limits must be upheld.
Federal regulation prohibits redfish caught by recreational fishermen in federal waters.
Enacted by George Bush in 1987, federal regulations and legislation added redfish as a protected species so each state has its own laws and guidelines on how many redfish you can keep, when redfish fish for them, and what the bag size limits are. Redfish regulations will vary from state to state and knowing the correct laws, rules, and regulations will help you avoid fines and tickets and keep you from breaking any laws.
The overall goal is to be a smart angler armed with all of the necessary information from each wildlife commission or wildlife department to enjoy each Florida redfish outing to its fullest. Here we hope to provide all anglers fishing for redfish in Florida with a brief guide to redfish season, slot limit laws, rules, and regulations for fishing in local waters.
This fishing guide will explore the Florida redfish limit, how to measure redfish to stay within length limits, any special regulation or rule changes for recreational fishing or commercial fishing, and the dates that redfish are in season. As mentioned above, the daily bag limit of red drum or single black drum and the possession of redfish in Florida is 1.
Florida Redfish Catch & Bag Size Limit
Daily Limit: 1*
Minimum size: 18″ to 27″
Northeast Regional Bag Limit – Except as provided for in Rule 68B-22.007, F.A.C., in the northeast region, no person shall harvest nor possess more than two native redfish per day while in, on, or above the waters of the state or on any dock, pier, bridge, beach, boat ramp, or another fishing site adjacent to such waters, and any parking located adjacent to said fishing sites.
Northwest and South Regional Bag Limit – Except as provided for in Rule 68B-22.007, F.A.C., in the northwest and south regions, no person shall harvest nor possess more than one native redfish per day while in, on, or above the waters of the state or on any dock, pier, bridge, beach, boat ramp, or another fishing site adjacent to such waters, and any parking located adjacent to said fishing sites.
Vessel Limit – Notwithstanding subsections (1) and (2), above, no more than 8 red drum shall be possessed aboard any vessel in or on state waters at any time.
Transport Possession Limit – No person shall possess more than six native red drum while in transit on land.
Sale of Native Redfish Prohibited – The purchase, sale, or exchange of any native redfish is prohibited.
When Is Florida Redfish Season?
Redfish season in Florida state waters is year-round.
Fishing for redfish is illegal in federal waters. Learn more about redfish season, size and bag limits, and state laws on our redfish index page. See Texas bag limits and Alabama slot and size limits here.
Florida Saltwater Fishing Regulations Quick Chart >>
Atlantic Fishing Recreational Seasons >>
Gulf Fishing Recreational Seasons >>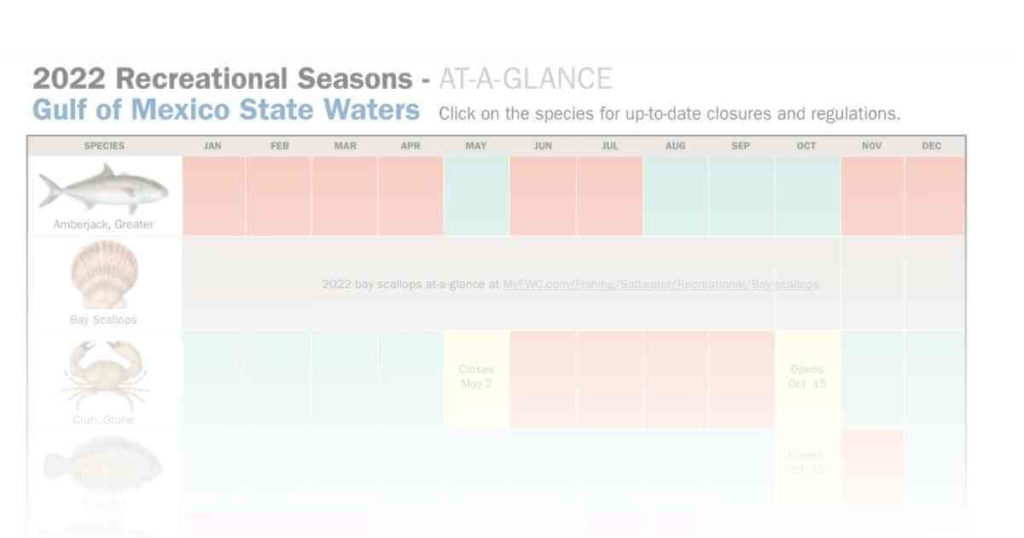 Florida Red Drum Management Zones
For red drum, there are three management zones to be aware of. The daily bag limit is one fish in the northwest and south zones and two fish in the northeast zone.
Florida Key Redfish Restrictions and Guidelines
Most red bloom restrictions were removed in 2021
Review Florida's extensive laws before fishing for red drum, or any fish
No person shall harvest in or from the waters of the State of Florida at any time, or unnecessarily destroy, any redfish of total length less than 18 inches, nor greater than 27 inches.
Gigging, spearing, or snatching redfish is prohibited in the state of Florida.
How To Measure Redfish To Abide by Florida Size and Bag Limits
For most finfish, such as redfish, size limit regulations use either Fork Length or Total Length.
Total Length is measured from the most forward point of the head, with the mouth closed, to the farthest tip of the tail with the tail compressed or squeezed, while the fish is lying on its side.
Total Length species include but are not limited to snappers, groupers, red drum, black drum, snook, spotted seatrout, weakfish, tripletail, bonefish, sheepshead, and flounder.
Steps to measure redfish:
Lay the redfish out on a flat surface with its jaw closed.
For the soft-tailed redfish and scrunch up the tail to obtain the maximum length it can reach.
Next, measure a very straight line from the tip of the snout to the furthest part of the tail as you hold it scrunched up.
When using a flexible measuring tape, please remember to take a straight line measurement and do not follow the contour of the fish as this will result in an inaccurate measurement greater the than the straight line measurement. For best results, place flexible measuring tapes flat on a hard surface and measure fish accordingly.

–Florida Fish and Wildlife Conservation Commission
Common Characteristics of Redfish:
Redfish are very popular inshore species and extremely fun to catch.
Anglers from Texas and all over the world often visit the United States coast every year to try their luck at catching them. They provide an awesome fight and are delicious to eat. Many fishing charters along the coast offer redfish excursions as well.
What Do Redfish Look Like?
Typically iridescent silver-gray with a copper cast
One or more oscillated spots on the upper sides from below the soft portion of the dorsal fin to the base of the caudal fin
Mouth inferior and horizontal, teeth set in bands on both jaws
Chin without barbels, smooth pre-opercular margin
Adults utilize nearshore and inshore bottom habitats, such as tidal creeks, oyster reefs, and beaches, typically over sandy or sandy-mud bottoms; may also congregate in nearshore groups.
Juveniles inhabit estuaries near shallow tidal creeks and salt marshes, commonly at marsh grass edges or in the vicinity of oyster reefs; reside in deeper river channels during winter. Subadults inhabit larger tidal creeks, rivers, and the front beaches of barrier islands.
What Is Redfish Average Size and Age?
18 inches, 2.6 pounds
Approximately 38 years although some have been reported to live much longer.
What Species Known as Redfish Fall Under Florida Limits?
It's important to know the types of species that are known as redfish and are governed by state laws and regulations.
Redfish is a common name for several species of fish. It is most commonly applied to certain deep-sea rockfish in the genus Sebastes, red drum from the genus Sciaenops or the reef dwelling snappers in the genus Lutjanus. It is also applied to the slimeheads or roughies (family Trachichthyidae), and the alfonsinos.

Redfish on Wikipedia
| | | |
| --- | --- | --- |
| Image | Redfish Species | Common Names for Redfish |
| | Centroberyx affinis | Redfish, eastern nannygai |
| | Etelis oculatus | Queen snapper |
| | Lutjanus buccanella | Blackfin snapper |
| | Lutjanus campechanus | Red snapper |
| | Lutjanus erythropterus | Crimson snapper |
| | Lutjanus purpureus | Southern red snapper |
| | Lutjanus sebae | Emperor red snapper |
| | Lutjanus synagris | Lane snapper |
| | Oncorhynchus nerka | Sockeye salmon |
| | Rhomboplites aurorubens | Vermillion snapper |
| | Sebastes fasciatus | Acadian redfish |
| | Sciaenops ocellatus | Red drum |
| | Sebastes mentella | Deep-water redfish |
| | Sebastes norvegicus | Ocean perch, rose fish |
Species Commonly Known as Redfish
Florida Fishing License Registration for Catching Redfish
Register for your Florida fishing license at Go Outdoors Florida.
Florida Resident
Annual License: $17.00
Five Year Florida License: $79.00
Non Resident
Three Day License: $17.00
Seven Day License: $30.00
Annual License: $47.00
How to Book a Redfish Charter in Florida Waters
If you're looking for a redfish charter in Florida, check out Fishing Booker for the most efficient way to book.
FishingBooker is an online charter service for fishing trips and started in Siberia as a mere startup and quickly grew to the success it's enjoying today. Now, with a headquarters in Virginia and boat listings in more than 1000 cities, it's safe to say it's one of the biggest travel agencies around the globe.
Some users like to think of FishingBooker as Airbnb for fishing, and the comparison makes sense. So, what exactly does FishingBooker do?
FishingBooker provides thousands of boat listings you can choose from for your trip. You choose the location and date you want, and the site shows you all the listings available. You choose your favorite, and then the captain contacts you.
The website doesn't charge you more than you'd pay if you booked independently. FishingBooker makes money by taking a small commission off the trips' deposits. It's a win-win deal because captains only pay a tiny commission for routine jobs, and customers do not pay anything extra.
3 Popular Redfish Charters in Florida
Tips on Handling Large Redfish in Florida Waters
Larger fish like redfish are important to maintain healthy fish populations because they are typically more successful spawners. Use these tips in mind to give big fish a fighting chance at survival after catching

-Florida Saltwater Fishing E-Regulations
Keep large fish in the water to reduce stress or injury to the fish. Learn more about how long before ungutted fish goes bad and what colors to wear when fishing here.
Use heavy tackle to bring fish in quickly, reducing the chance of exhaustion.
Always revive fish showing signs of exhaustion by allowing a consistent flow of water through the mouth and over the gills. Use a "figure-eight motion" if you are fishing from a stationary location.
Do not gaff a fish unless you intend to harvest it.
Use a descending device or venting tool on fish with signs of barotrauma (bloated belly, stomach projecting from the mouth, protruding intestines, bulging eyes.)
If you must remove fish from the water:
Get them back in the water as soon as possible.
Always hold them horizontally and support their weight with two hands.
Use wet hands, never a towel or other cloth that can remove their protective slime.
Keep fingers out of the eyes and gills.
Do not drag them over rocks, the gunnel of a boat, the side of a dock, pier or any other rough surface.
Fishing for redfish from bridges or piers:
Only bring fish onto the pier or bridge if you intend to harvest.
Only target large fish from bridges or piers if you have specialized gear (pier nets or slings) to support their full body. Bringing up large fish without proper gear or allowing them to freefall large distances can cause injury and increase mortality.
If you cannot properly lift the fish, cut the line as close to the fish as possible before releasing it back into the water. (This may mean walking this fish to the shore if fishing from a pier.)
Saltwater Licensing Fees for Redfish in Each State Surrounding Florida
| | | | | |
| --- | --- | --- | --- | --- |
| License | Alabama | Louisiana | Georgia | All Other States |
| Annual | $25.00 | $91.10 | $48.10 | $53.70 |
| Trip | $10.40 | $29.60 | $30.10 | $29.60 |
| Pier | $6.50 | $12.10 | $12.10 | $12.10 |
| Spearfishing | $6.00 | $8.50 | $8.50 | $8.50 |
| Disabled | $3.05 | N/A | N/A | N/A |
| Disabled Veterans (20%) | $3.15 | N/A | N/A | N/A |
| Reef Fish Endorsement | $10.00 | $10.00 | $10.00 | $10.00 |
State Saltwater Licensing Fees
About Post Author