There are tons of spinning rods out there, but only a few of them could stand the test of actual fishing. While the best rods of 2023 give you various advantages, from versatility to convenience, they would also give new anglers an enjoyable experience and enhance learning for them. In truth, the spinning rod is an important piece of fishing equipment that would dictate how successful your fishing trips end up. In this Cadence CR5 Spinning Rod review, we would be covering everything there is to know, including the features, pros, and cons.
The Cadence CR5 6'6 is one of those rods you can count on. This is a popular spinning rod that is loved by many due to the excellent performance it gives.
Summary: The Cadence CR5 is a Superior Product!
Cadence is a well-known name by expert anglers, despite being fairly new in the game. The Cadence 6'6 spinning rod packs a lot of great features for making fishing smooth and delightful. While its 30-ton graphite body makes it rigid and lightweight, the guides about 7 + tip are made with stainless steel, which makes it last longer than numerous of its competitions. It can also bear lure weights of about ⅛- ⅝ oz.
Pros:
Features smooth casing
Offers comfortable handling with EVA technology
Has good warranty
Awesome value for $50
Cons:
Prolonged use without routine care may wear its parts.
Cadence CR5 Spinning Rod Review – Best Features
This spinning rod was produced bearing in mind the comfort required for modern-day fishing. That is why many of its parts and features are easy on the hand, allowing you to fish for multiple hours, multiple days in a week. However, with all the great job Cadence has done on this, they still managed to make it super affordable.
30-Ton Graphite Blank
Fishing rods need to be solid and durable. The Cadence CR5 6'6 1 achieves this through its 30-ton graphite blank, making it sensitive and lightweight. As a result, you may use this rod for fishing in freshwater habitats for fishes like bass, trout, or walleye.
Stainless Steel Guides
The stainless-steel guides of the Cadence CR5 6'6 1 have 7 + tips. This feature gives you a smooth experience without sticking lines when fishing. It also improves sensitivity and durability.
Fuji Reel Seat
If you will be fishing for long hours, you'd need a rod that is built with ergonomic properties to guarantee comfort. This rod's Fuji reel seat helps you achieve this quite easily.
EVA Handles
For absolute control of your fishing, you need to have a good grip on your rod. The Cadence CR5 6'6 1 spinning rod features the popular EVA handles with cork to keep you in control and make you fish comfortably.View Current Pricing
Cadence CR5 6'6 Spinning Rod Review – General User Opinions
The general user impression for this spinning rod is outstanding. The high percentage of customers who have bought and used the Cadence CR5 6'6 have been full of praise for this rod. Some of the benefits they have mentioned include ease and budget-friendliness. Expert anglers have also been quick to recommend this rod.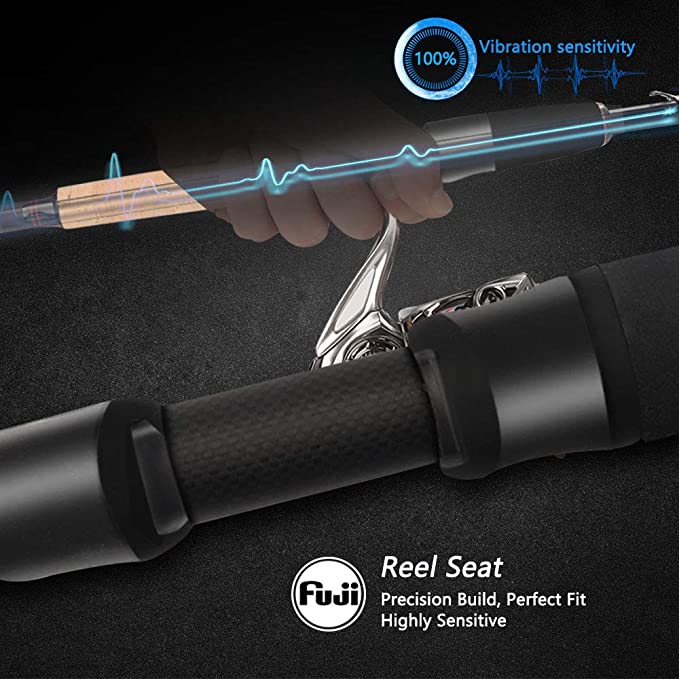 Cadence CR5 Review Conclusion – Best Deal on the Market!
Cadence spinning rods, especially the Cadence CR5 6'6 are a testament that excellent rods do not have to be expensive. This rod allows you to fish at varying levels without breaking the bank. The parts are carefully built with sturdy materials that make them last long and comfortable to use. It is, therefore, no problem to recommend this spinning rod for new and experienced anglers.
Fishing can be an expensive hobby, but it does not have to be. With the Cadence CR5 6'6, you have a rod that offers all the premium features, from convenience to lightweight and sensitivity. This rod does well with different fishing types, and you can be assured it would stand the test of time.
Hopefully you enjoyed this Cadence CR5 Spinning Rod review!View Current Pricing
Cadence CR5 Spinning Rod Review FAQ
What features can you get with the Cadence CR5?
This rod has a stainless-steel body that makes it enjoyable to operate, a rigid build with 30-ton graphite, and the handles are made with EVA technology for convenience. It also has a Fuji reel seat that further increases comfortability.
What kind of fishing can you use the cadence CR5 6'6 for?
The Cadence CR5 6'6 is very efficient for fishing for trout, panfish and more.
What makes Cadence CR5 6'6 special?
This rod is special because it combines a lot of premium features at an affordable price tag. Its line weight is about 4-10lb and can hold out lure weights of about ⅛-⅝ Oz with finesse.
Things to Consider Before Buying a Spinning Rod
When buying a spinning rod, the objective is to find one with the right combination of features for reliable fishing over a long while. A good spinning rod should have a decent level of power, action, length, grip, and build. Why do these things matter, and how do you check for them?
Power
The power is a measure of how much strength a rod has. Rod power is grouped into heavy, medium, light, and ultralight. The most potent rods are durable and are required for larger fishes, but they are also more tiring.
Action
The action of a spinning rod describes how the rod bends and its recovery when it has no weight on it. Rod action can be slow, medium, or fast depending on where it bends, with the fast action leaning close to the rod's tip. Fast action rods are the most sensitive, but their casting is also the least.
Length
The length is another important feature that dictates how much control you'd have. The rod length you choose should depend on how much distance you intend to cast because the longer rods cast longer distances. However, long rods also have lesser accuracy than short ones.
Grip
A good grip puts you in control and makes you fish comfortably. Most handles are fitted with cork foam, or EVA foam, while others also have other technologies like the Winn grip. All these have varying textures and can be combined in some rods.
Build
The materials your spinning rod is constructed with determine the benefits you get from it, how strong it is, and how long it would last. Rods built with fibreglass are durable but offer very minimal sensitivity. Meanwhile, graphite rods provide both sensitivity and lightness.
About Post Author