Ultralight fishing is a popular form of fishing for catching desirable sportfish, but it's not always easy to find the right type of reel. How light is too light? Does an ultralight reel mean it won't be able to handle heavier fish?
The last thing you want to do is buy a flimsy reel that breaks within three uses. Fishing equipment can be pricey, so you want to make the most out of your money rather than make constant replacements.
Whether you're a beginner or experienced ultralight fisher, we've got you covered. We have found the best ultralight spinning reels of 2022 to help all anglers perfect their ultralight fishing techniques to catch more fish. If you're on a budget, check out our recent update on the best spinning reels under $100.
OUR TOP PICK
[5stars]
The Piscifun Flame spinning reel is ideal for ultralight fishing due to its narrow and hollow design. Made of a graphite body with aluminum handles, this reel weighs 242 grams (for the 2000 series).
These materials are of the highest quality and are more durable than cheaper plastic options. With its matte black body and red spool, you can see where the name "Flame" has come from. This spinning reel is all about its smooth performance. It features nine ball bearings with one extra roller bearing for the gears, which offer continuous and fluid fishing. Though the reel is hollow and narrow, it still offers a strong drag power of up to 19.8lb – making it versatile for a range of fish sizes. This reel comes in a range of spool capacity series – 2000 and 3000 are suited for freshwater fishing, while 4000 and 5000 are designed for saltwater and big fish fishing. The heaviest series, 5000, weighs only 374 grams.
This is an ideal spinning reel for fishing on a kayak, boat, or even ice fishing (see our favorite ice fishing flashers here) due to its compact and lightweight size. This spinning reel is great for catching crappie, bass, catfish, trout, and panfish.
Pros
Narrow and hollow design for a lightweight feel
Made of high-quality materials for durability
Drag power of up to 19.8lbs for a range of fish sizes
Available in various series depending on the style of fishing (freshwater, saltwater)
Nine-ball bearings allow for smooth performance
Cons
Be sure to buy the appropriate series for the intended fishing, as the 2000 won't work in the same way as the 5000
Best for the Money
[5stars]
This spinning reel is ideal for those on a budget and beginners. Made entirely of durable aluminum, it weighs 8.6 ounces which is ideal for ultralight fishing. The 1000 series is suitable for creek wading and catching panfish, trout, and crappies. In terms of the gears and power, this reel has a gear ratio of 4.9:1 and a maximum drag of 4.4. These specifications are the minimum requirements for a good ultralight spinning reel.
The speed is slower than spinning reels that professional and experienced anglers prefer, which is why this product is better suited for beginners. If you're looking to treat your child or grandchild to an ultralight spinning reel to kickstart their fishing journey, this is the most suitable reel.
It works beyond its affordable price point but does not act the same way as more expensive and higher-quality reels. Despite this, it still provides smooth performance and is an ideal weight.
Pros
Performance is best suited for beginners
Affordable price point
Good gear ratio and drag for freshwater fishing
Ball-bearing drive allows for smooth performance
Cons
Gear ratio and drag are not suitable for saltwater fishing and large fish catching.
Best for Ice Fishing
[5stars]
This Yumos spinning reel stands out for its stylish appearance. While looks aren't everything in the angling world, this product sports a classy white and gold coloring that looks as good as it works.
It is made of high-quality materials, including aluminum, graphite, and stainless steel. Anglers often prefer the wooden handle grip due to the comfortable feel. This spinning reel is most suitable for ice fishing due to its powerful 12+1 ball bearings. The more ball-bearings, the faster and smoother the performance!
Made of stainless steel, they are resistant to wear and tear and corrosion. These ball bearings are matched with carbon fiber washers designed to handle fish weighing up to 35lbs. The gear ratio is an impressive 5.5:1 for fast fishing. It is important to note that only the size 500 reel is designed for ice fishing. Other models come in 1000, 3000, and 5000 series, better suited for saltwater fishing and catching larger fish.
Pros
Aluminum, graphite, and stainless steel materials are high quality and durable
12+1 ball bearings allow for the smoothest performance
500 model is ideal for ice fishing
Maximum drag power of 35lbs allows for handling larger fish.
Cons
It can be squeaky, which may be off-putting
Best for Smooth Performance
[4stars]
This Sougayilang spinning reel is the most visually impressive reel on our list. Featuring a hollow graphite frame with aluminum handles, this reel sports an eye-catching purple and holographic design that looks as good as it works. The 12 ball bearings are what make this the smoothest spinning reel. Not only are they resistant to corrosion, but they have an anti-reverse feature to allow for the smoothest and simplest performance.
The carbon fiber drag system can handle weights of up to 39lbs – making this an ideal spinning reel for handling a range of fish sizes. This product is as user-friendly as it gets with comfortable polymer, slip-resistant handles, and the braid line-ready spool that prevents slippage. The textured spool is highly convenient for connecting the line to the reel, which cuts the connecting time in half. This ultralight spinning reel is ideal for beginner, advanced, and experienced anglers alike. It can catch trout, crappie, flounder, redfish, and bass.
Pros
12 ball bearings allow for smooth and fast performance
Textured spool easily connects the line to the reel
Maximum weight of 39lbs for catching a range of fish
Slip-resistant handles for a comfortable grip
Cons
The most expensive spinning reel on our list
Best for Saltwater Fishing
[4stars]
This Joyday spinning reel is most ideal for those who want a user-friendly reel for saltwater fishing. This compact design is made of aluminum and weighs only 9.7 ounces for easy casting and transportation – ideal for long-haul fishing trips. With 12 corrosion-resistant ball bearings, this reel offers a smooth and fast retrieval for saltwater fishing and handling large fish. The zinc alloy gear ratio is 5.2:1, which also allows for picking up the fishing line quickly. If you're looking to use this spinning reel for saltwater fishing, the 4000 or 7000 series is most ideal. For freshwater fishing, the 2000 works best. As this ultralight spinning reel is inexpensive, users often buy two products in different models to suit their fishing needs.
Pros
It comes in a range of series for freshwater and saltwater fishing
Powerful gear ratio allows for quick line retrieval
12 corrosion-resistant ball bearings are ideal for catching large fish
Affordable for buying two reels for different purposes
Collapsible handle and compact design is ideal for long-haul fishing
Cons
Some users struggle with the folding handle, but the screw can be tightened to prevent it from collapsing during use.
Best Ultralight Spinning Reels Buying Guide
What to Consider When Buying an Ultralight Spinning Reel
There are a variety of factors to consider when looking to buy an ultralight spinning reel. These range from the different styles of ultralight fishing (from freshwater to saltwater) to how the reel size determines the type of fishing it is suitable for.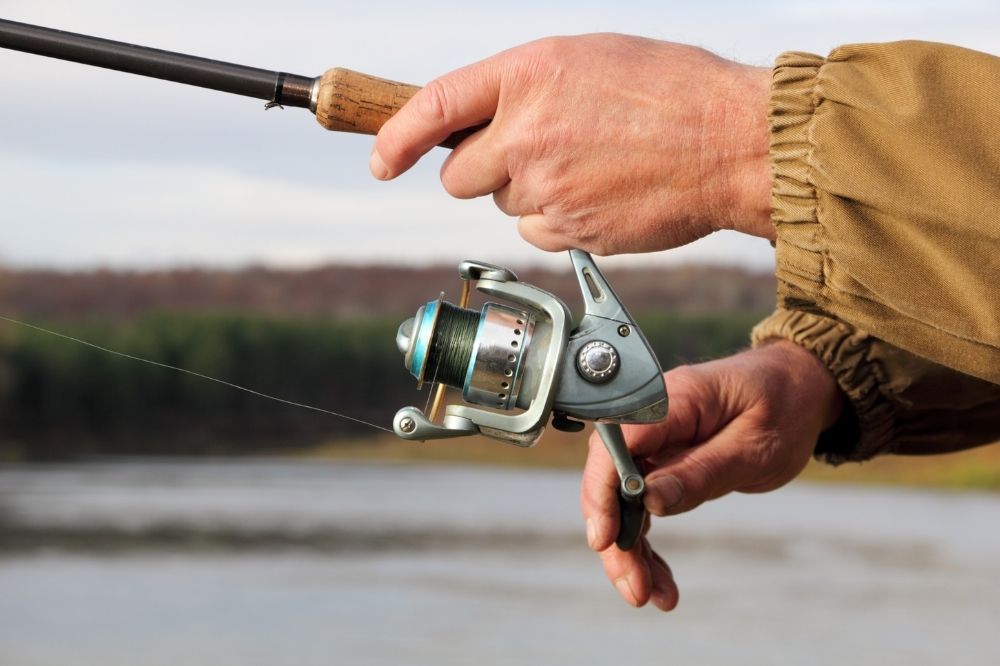 Ultralight Fishing
Ultralight fishing involves a lightweight rod (learn about the best swimbait rods here), line, reel, and lure. Some anglers aren't fans of ultralight fishing techniques, but they can catch more fish if done properly. The most common fish caught with ultralight fishing include crappie, trout, pickering, and other small fish. If the right reel is matched with the right rod and line, ultralight fishing can be used to catch larger fish such as bass. A spinning reel is preferred over a baitcasting reel as they are better suited for casting lightweight lures. While a baitcaster allows for better accuracy and casting distance (learn about the best baitcaster for beginners here), a spinning reel is faster and generally smoother to use, which makes them so appealing to beginners. For more information, check out our post on the differences between a spinning and baitcasting reel.
Choosing the Right Reel Size
When looking at ultralight spinning reels, it's important to understand what the reel sizes mean in relation to how you intend to use the reel. What fish do you intend to catch? Where do you intend to fish – freshwater or saltwater habitats? Fortunately, understanding the reel sizes isn't difficult. The bigger the reel size, the larger the fish it can handle. If you're looking to fish for larger fish such as tuna, ultralight fishing may not be the most ideal tactic as that would require a reel over 10,000. Ultralight spinning reels range anywhere from 1000 to 7000. Some manufacturers label sizes as 10, 20, 30, etc., but this is simply a shortened version of the larger number. The smallest spinning reels are between 1000 and 3500. These reels are best suited for freshwater fishing and in bays or harbors, as they can handle lighter and smaller fish such as crappie, bluegill, trout, and often bass. Medium-sized reels range from 4000-5000. These can be used in freshwater or saltwater environments, as they can handle fish up to 30lbs. This size is generally the most popular amongst ultralight fishers due to its versatility. They can catch fish such as catfish, snappers, and redfish. The largest-sized reels range anywhere from 6000 to 30000. The lines between ultralight fishing and regular fishing can blur because the largest-sized reels are the heaviest.
These reels are best for fishing on a boat (see our favorite fish and ski boats here) in saltwater environments. They can handle fish weighing over 150lbs, including sailfish and salmon.
Best Environment for Ultralight Fishing
Due to the nature of a light rod and line, the best condition for ultralight fishing is calm and clear waters.
Keep in mind that fish may see the line and lure in the clearest of waters – but ultralight fishing lines are designed to be virtually invisible. This is most beneficial for catching crappie, as they will know when bait looks suspicious. Ultralight fishing is all about being as discreet as possible, after all!
Drag Quality & Smooth Performance
Ensuring a smooth performance when ultralight fishing depends on the bearings and the drag quality. The best reels will have a higher number of bearings, allow for many different types of lures, such as the best buzzbait for bass, and offer smoother performance.
The material of these bearings is also important, as stainless steel bearings can help the ball bearings run smoothly even if there aren't many. When a fish grabs the bait and instinctively starts to swim away, the drag system is in place to resist the reel from spinning. In the simplest of explanations, the drag system includes little steel plates that prevent the spool from releasing more lines when it is pulled. The drag system will either be at the front or back on a spinning reel, depending on the model. If you are a beginner (see high-quality beginner spincast rods by Zebco here), we recommend sticking to the back drag. The front drags better for catching large fish. They can both be adjusted to suit the angler.
Anti-Reverse System
To prevent fish from grabbing the lure and swimming away, thus spinning the spool backward to form more excess line, some reels come with an anti-reverse system. This system essentially works as a break.
Gear Ratio
The gear ratio may sound confusing, but it simply indicates how many times a line will wrap around with one handle rotation. This ratio will determine the speed of the line. A gear ratio of 5:1 indicates that the line will wrap around five times during one handle rotation.
Weight
The problem with the lightest of spinning reels means that they are more likely to break and require replacements. It's not easy to find a durable yet lightweight spinning reel for ultralight fishing. We recommend looking for reels around 8 ounces in weight.
Fortunately, most spinning reels come with a hollow body of graphite or aluminum to provide a strong material while remaining lightweight.
Best Ultralight Spinning Reels – FAQ's
What is the best ultralight spinning reel?
From our research, the best ultralight spinning reel is the Piscifun Flame Ultralight Spinning Reel.
Available in a range of reel sizes ranging from 2000 to 5000, this is a versatile spinning reel that is most ideal for catching freshwater to saltwater fish. With a drag power of 19.8lb, it can handle the pull of large fish without breaking the line.
It is made of the most durable materials, including a hollow and narrow graphite body with aluminum handles for a long service life – and it only weighs 8.05oz!
What is the best ultralight spinning reel for crappie?
We recommend the Sougayilang Ultralight Spinning reel for catching crappie. As crappie can be skeptical about the large lure and obvious lines, this reel is lightweight enough to be subtle while providing the strength to catch a lot of fish in one session. It is built for a smooth performance with its 12 ball bearings and quality drag system.
Is baitcast or spinning better?
For ultralight fishing, a spinning reel is best. These reels are generally lighter (depending on the size of the reel) and have a more concealable line, which is ideal for freshwater and saltwater fishing alike.
They also have a faster retrieval rate, so anglers often prefer them as they can catch more fish in a session. Baitcast reels are great for regular fishing (learn about the champion-named Abu Garcia Jordan Lee Baitcaster Combo here) as they are heavier, which provides better casting accuracy and distance. However, this weight can be redundant in ultralight fishing. The following post regarding the parts of a baitcasting reel and the best baitcasting reel for bass provide more great information for your reference.
What is a 1000 size reel?
This is the smallest reel size, which is best suited for catching lighter fish in freshwater environments. These reels are suitable for catching fish that weigh around 15lbs, including crappie, some bass, bluegill, and trout. For more information about reel sizes, check out our detailed spinning reel size chart.If you intend to use an ultralight spinning reel for saltwater fishing or heavier fish, it is recommended to look for a spinning reel size of between 4000 and 7000.
About Post Author