Fishing and Water Skiing are two super fun things to do on a nice day on the water. There's nothing as satisfying as the encompassing blue seas and the breeze blowing through your hair. However, the most crucial part of maximizing your skiing and fishing adventure is having a quality boat. The best fishing and ski boat in 2023 is worthy of some research.
Oftentimes, people mistake these for a wakeboard boat. While they may have some similarities, it's also important to know the differences. What are the best fish and ski boats? How can a buyer select the most suitable one for them? We'll walk you through everything you need to know about boats for fishing and skiing in 2023 in this article.
Top 10 Best Fish and Ski Boats of 2023
#1: Alumacraft Trophy 175 – Best Fish and Ski Boat for the Money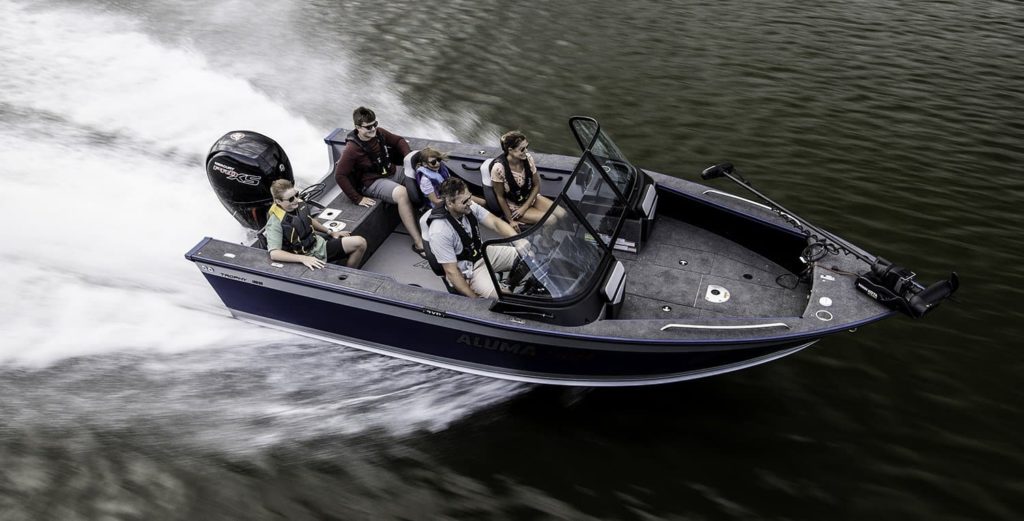 First on our list of the best fish and ski boats is the Alumacraft's Trophy 175. It is noteworthy for its excellent skiing, angling, and fishing results. With its unbeatable performance, water skiers and anglers will feel thrilled about their purchase. The machine's horsepower is 150, and the length is seventeen feet eight inches. You won't be disappointed with the speed and performance of this boat.
Apart from its water skiing properties, the combination of trolling tools, starboard system, and eighteen-gallon Livewell are great additions for fishing.
With its sizable storage space, you can keep as much stuff as you need for a full day on the water. The bow rod compartment and the port gunwale offer extra space.
Advantages
The Alumacraft's Trophy 175 offers impeccable performance and will help anglers get the best out of their fishing experience. It has many storage systems. Some of them include the port gunwale and the bow rod compartment. The former can hold about fifteen rods, and the latter can hold about eight rods. If you want, you can conserve more things around them. The beautiful part is that these storage compartments are easy to use.
We also admire the versatility of this boat. It is suitable not only for anglers but also for water skiers. The trolling tools, starboard system, eighteen-gallon Livewell, and other water skiing properties have top-notch quality.
You can build your own Alumacraft's Trophy 175, too, based on the specifications you desire. With its customizable quality, you can tailor the hull color, flooring, engine brand, horsepower, and other accessories to your needs. To get started, contact the Alumacraft company to build it for you.
The seating capacity can carry about seven persons, making it suitable for family use.
Another thing to note is that it is one of the most affordable among the trophy series. The price ranges from about $23,000 and up brand new.
Disadvantages
While the versatility of this boat is excellent, we would not recommend it for competitive skiing.
#2: Ski Nautique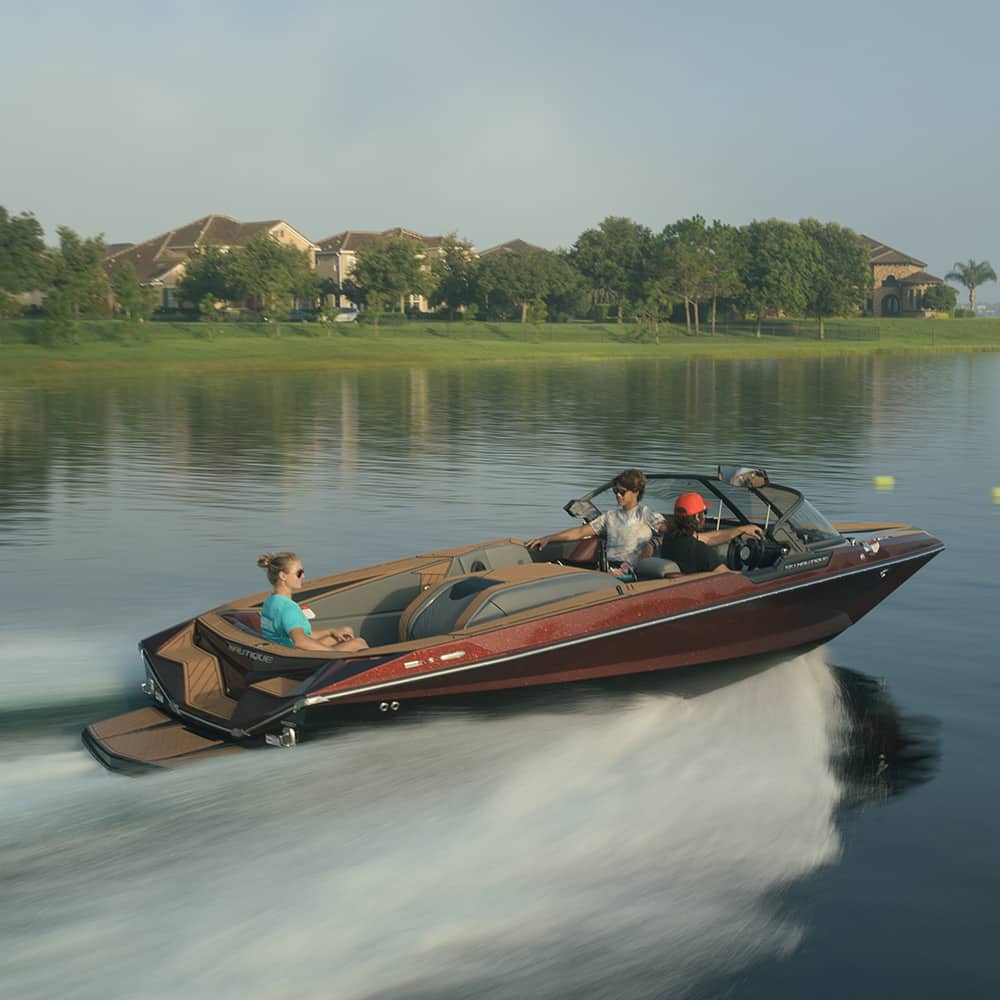 Ski Nautique is one of the most reputable ski boats in the world. The craft produces the smoothest wakes every step of the way to offer a buzz-worthy performance.
The fiberglass system and carbon compartment strike a considerable balance of force, sturdiness, and capacity. Note that the basic features are the helm seat, walk-through, end cap, and many others.
Also, it features a touchscreen and a helm command that allow users to navigate the menus and switch the settings when necessary.
Advantages
Ski Nautique is an awesome portable option as it is lightweight and sturdy.
Its sleek design makes it an appealing addition to your boat collection. It is a great gift idea for friends and members of a family that enjoy water skiing.
The touchscreen and helm command features have a spontaneous interface and customized synchronization. With these spectacular features, you can manage information and the settings of the boat. Comfort? It gives off a relaxed vibe and offers you a great skiing experience.
As stated earlier, the boat produces the smoothest wakes that are perfect for skiing. It means world-class skiers can utilize this feature to set the best records for themselves.
Disadvantages
The Ski Nautique boats do not have an excellent crossover quality. It means that you cannot flatten its wake for a slalom, especially during a surfing event.
#3: Malibu Response TXI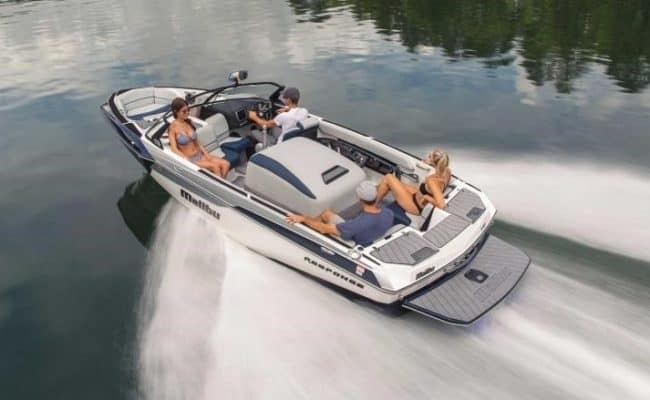 If you are a newbie, you need a boat that's made for starters and tournament-worthy. Malibu's TXI is made for individuals that are still working their way around the skiing industry.
It has a Rudder Control mechanization that generates smooth wakes and a monitoring system that offers reliable pull. The basic features are the command system, Monsoon engines, and submarine lights.
Advantages
The TXI's command systems put you in control as though you are the king of the seas. It is because of its ability to keep every functionality in the boat under your toes. For instance, the alternate screen feature allows you to synchronize the boat to your taste at a thirty percent rate. You can reduce the screen brightness and other customizable things.
As stated earlier, it is a great pick for individuals that are still learning the ropes. TXI submarine features are easy for anyone to use.
There is a reason most expert skiers would rather opt for TXI. It generates smooth wakes and offers a reliable pull. Plus, it is all about clinching the prize, and the brand is a proven tournament winner.
You should also note that malibu's striking design will make you the sea's eye-candy.
Disadvantages
Since most of its features favor skiers more, it is not the best option for fishing and wakeboarding.
#4: Nautique 200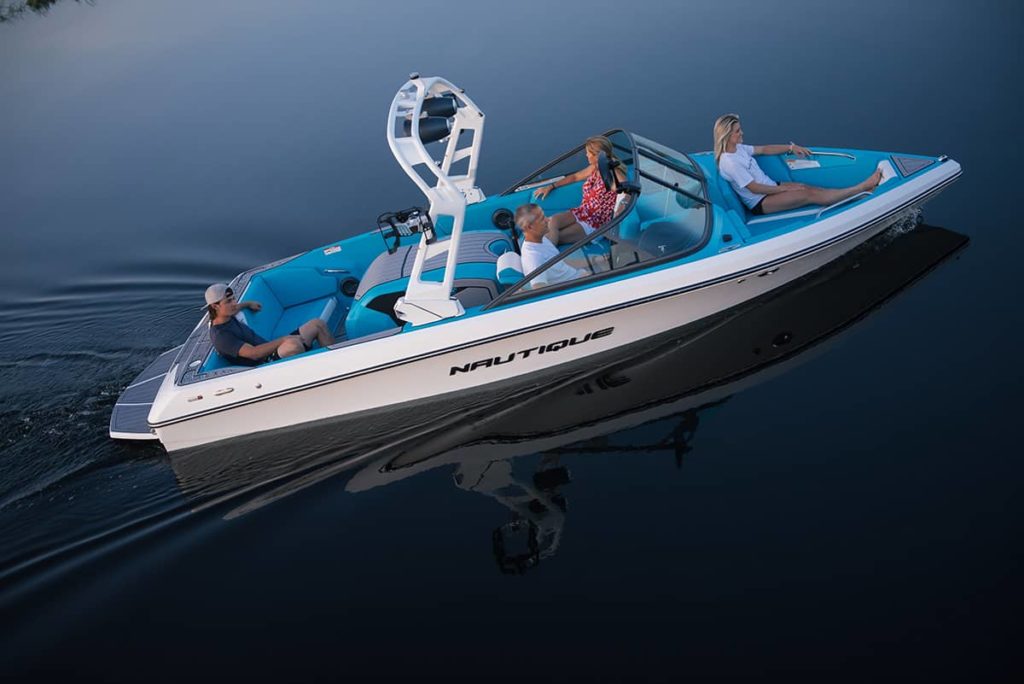 The Nautique 200 is the best ski boat for a tournament-worthy performance because it has a track record of success. It generates flattened waves that match the skills of both professional and average skiers. Not only that, the boat's rudder system allows you to customize how it will manuever the course.
The series comes with basic features like walk-through, open bow, interior design with nine-passenger capacity, flight control system, and many others.
Advantages
You can utilize open bow synchronization in various ways. Some cushions occupy the bow to help you relax, or you can get rid of the middle cushion for a walk.
The walk-through makes both the off-boarding and on-boarding activities a piece of cake. No individual has to ever trample on your cushion.
The flight control system offers the perfect trawling point. It allows you to pull under small bridges and enter into stunted boathouses without hassles.
Disadvantages
One drawback is that most of its features do not give room for saltwater use. Its features may start to wear with consistent use in saltwater bodies.
#5: Prostar 2023

It is not easy to find a ski boat that will offer great value for your money. You can count on Mastercraft's ProStar for a long-lasting experience. This edition also comes with a command system with a ten-point-six-inch touchscreen, detachable seating, optimum monitoring, steering mechanization, and many others.
Advantages
ProStar's detachable seating and sizable interiors upraise the experience while you keep relishing your day. So, you have a free ticket to the most comfortable drive.
The steering mechanization generates a responsive and well-grounded engine performance. In any case, expect a sassy surf, sassy control, and a sassy ride. Is there any better way to take full advantage of the value of your money?
Aside from the features mentioned earlier, the ProStar has a Ballast system that allows for a minimal time when creating the best waves.
Disadvantages
One downside is that it's stripped of the best performance in stormy or choppy waters. You have to steer clear of this boat when there are stormy waves.
#6: Supra SR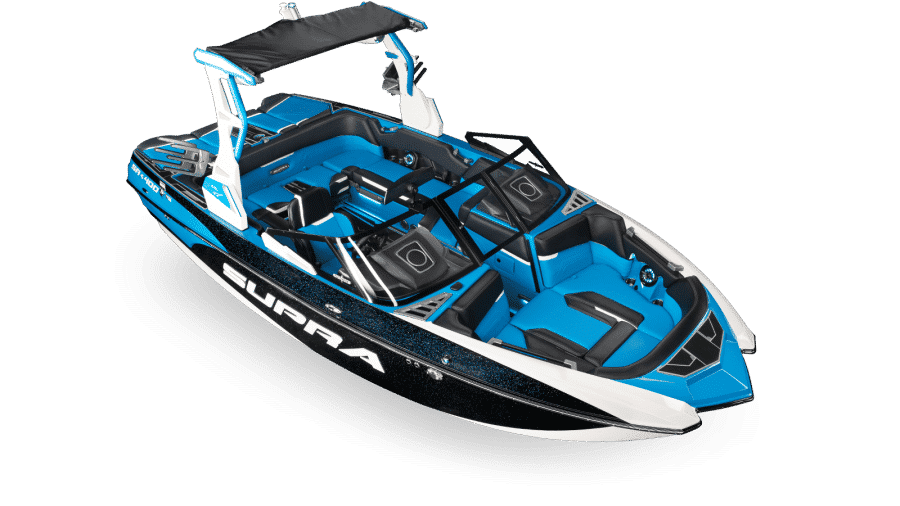 In stormy waters, the performance of most boats will decline. However, the SR Supra is different. It maintains excellent performance in choppy waterss.
It features Swell 3.0 Surf technology that is tailored to manage the pace of the boat. The feature also regulates the ballast system to offer firmness. There is a detachable Plate to smoothen the wake shape during a skiing session on stormy water.
Advantages
Supra SR has an excellent crossover dimension. It means that you can flatten its wake for slalom, especially during a surfing event.
An automatic wake system regulates the hull spot to offer a precise wake to the rider. It will work accurately regardless of the condition of the water.
It is ideal for entertainment and sports. It has the ability to smoothen the wake to create the finest waves.
Disadvantages
One issue with this boat is that it is a bit expensive. The average price is over $100,000, which is unaffordable for low-budget purchasers.
#7: Nautique Coastal 2023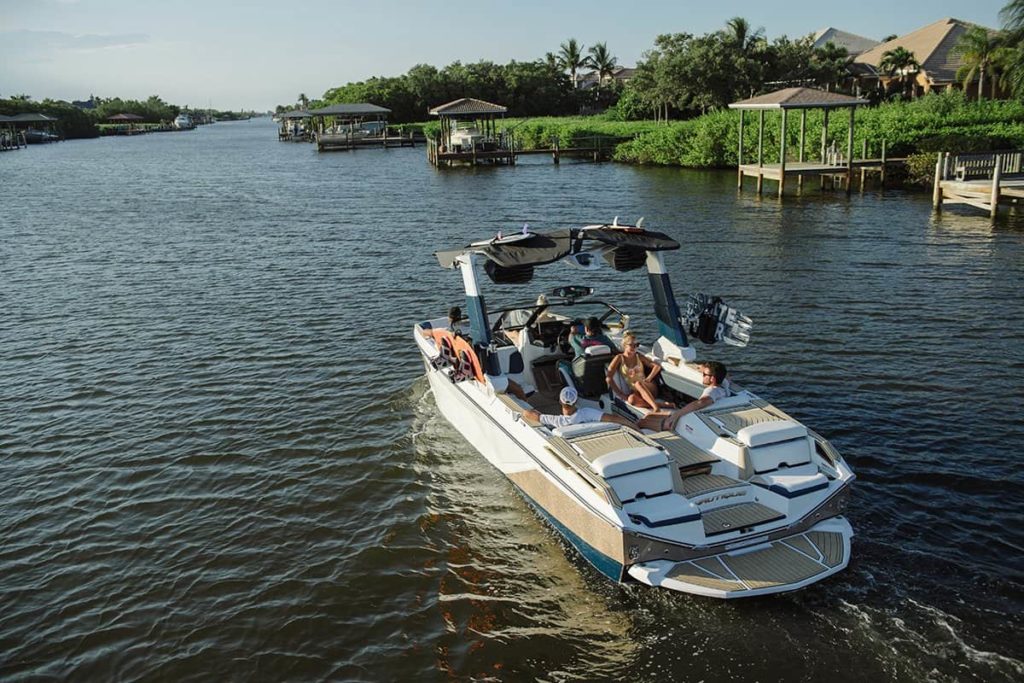 The Nautique coastal version is one of the best fish and ski boats for saltwater. This model comes with alkali-resistant features designed to guard the sensitive parts of the boat from the deteriorating effects of saltwater.
Some features are worthy of note, and they comprise the stainless saltwater engine, zinc anodes, steering cable, and many others. Since the vessel is created from rugged materials, it can withstand the toxicity that comes with saltwater.
Advantages
The combination of zinc anodes, saltwater engine, and lots more make the vessel super durable. For instance, the saltwater engine offers armored protection that helps both the interior and exterior parts to endure coastal use.
The gas shocks help the boat to stand against the toxic properties of saltwater.
There is also the GPS navigation system that ensures an automatic mapping displayed over the boat's touchscreen.
Based on the features mentioned earlier, we can conclude that the vessel is perfect for almost any type of water region.
Disadvantages
Price. This is another model starting at well over $100,000.
#8: Chaparral SSI Fish and Ski Boat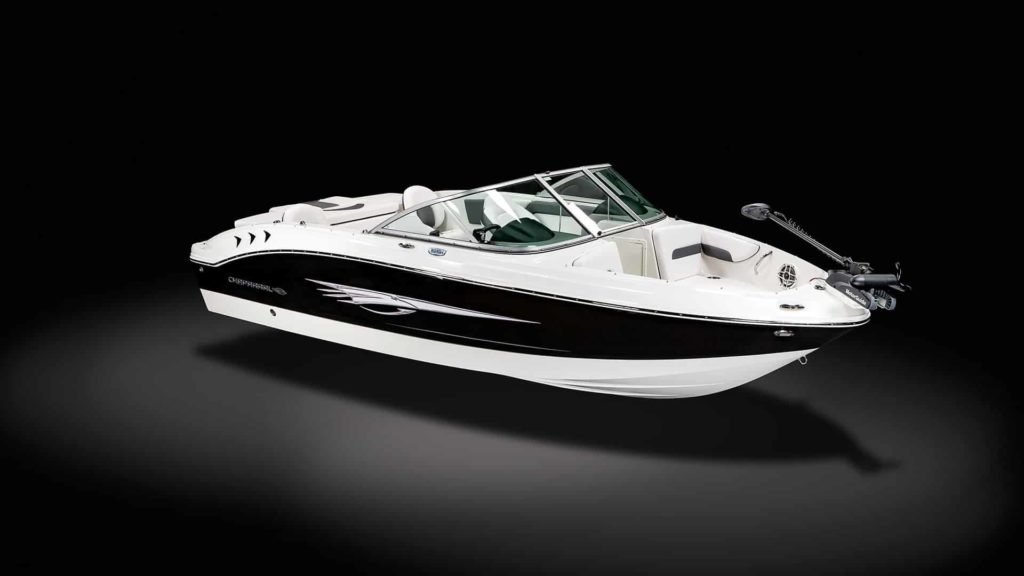 The Chaparral 19 is the finest choice for both a family and a fishing trip. It's what you may need to create a great experience. The edition comes with a large conservatory capacity with detachable seats and a well-grounded dashboard for easy mapping. The basic features stretch from a V-hull, gauges, helm brow, and many others.
Advantages
The storage space is abundant. You will find it under the cushion and on the floor. There is also a floor locker where you can store your accessories.
The surplus storage space has been built to cater to family needs.
The boat's detachable seats elevate comfort. You can regulate it in any way.
Chaparral's gauge system offers a truckload of information at your fingertips.
It is always one of the go-to features.
Disadvantages
Not the fastest boat on our list. If you like a faster boat, Chaparral may not be what you need.
#9: Tige 20 RZX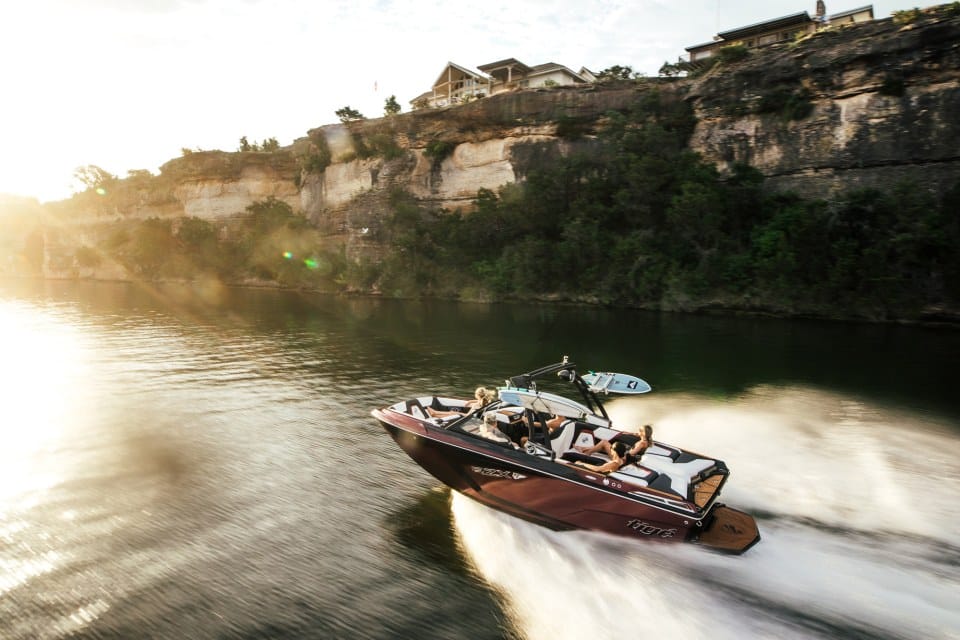 The Tige's RZX is an excellent choice for skiing competitions and introduces a proprietary arched hull. It means that its hull, compared to other types, curves upward at the traverse style. With this feature, you can produce an excellent slalom wake during competitive events and other occasions. The speed level stretches from thirty-five to thirty-six miles per hour.
The version comes with truckloads of storage, a large beam, and a sizable freeboard. RZX's basic features cut across the Indmar engine, Alpha system, and many others.
Advantages
RZX has abundant rooms for your members of the family and even your friends. So, you can allow the good time to rule your world through this space.
To offer the best, you must strive for the best. The vessel company does a great job with the audio system. Combining the tower speakers and Bluetooth is what you need to set the good times in a concert mood.
It is the only tool that allows individuals to transition from wakeboarding to slalom at a go. With the TAPS switch, you are good to go with any tournaments!
Disadvantages
One downside is that external components are a bit unattractive.
#10: Mastercraft XT21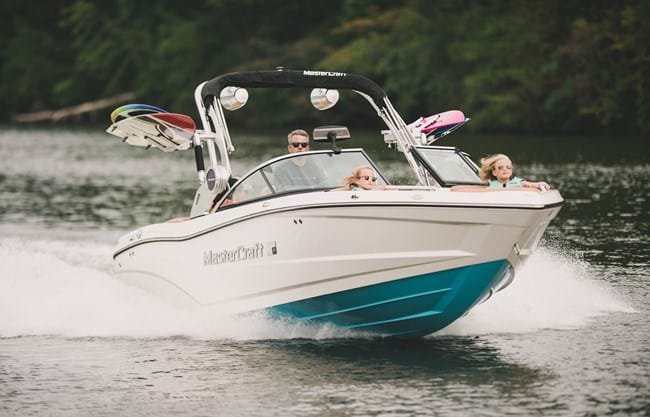 Mastercraft's XT21 is the finest choice for crossover water skiing. You can't get enough of it. It can monitor slaloms without a wake and ballast, making it an ideal choice for skiing.
The Surf system substitutes the ballast and produces a sturdy wave behind the vessel. So, it is perfect for wake surfing. The basic features run from the sizable layout to the swappable seat.
Advantages
It is an incredible pick for skiing, wake-surfing, and wakeboarding.
It has a slick internal and external layout.
Disadvantages
It may not be suitable for fishing.
How to Choose the Best Fish and Ski Boats
As we stated earlier, selecting the best fisshing and skiing boat for you can be tricky. Note these things when making your decision.
Tie-off Point
One of the primary features to note is the point at which the cable attaches to the boat. Typically, most people would opt for a tie-off point that equals the height of the skier's hands. It ensures that the rope can align you with the water surface since skiing does not demand you to jump.
However, it is not applicable for wakeboarding. If you intend to use the same vessel in this case, you must position the tie-off point higher than your height. You can pull it off with a tower on the vessel. Whether for wakeboarding or water skiing, your vessel must have a tie-off point.
Propulsion Approach
As stated earlier, skiing demands flattened wakes. This is where the propulsion approach comes into play. It all boils down to the propulsion approach utilized to produce torque.
If you want a ski vessel with an in-built system, you need to power a propulsion mechanism through the hull. The inbuilt system is popular for generating smooth wakes suitable for skiing since they stick inside the boat for a long time.
On the other hand, the outboard system sticks outside the vessel. It is usually positioned on the stern with clamps. The foolproof way to determine wake types exclusive to a boat is to reach out to its manufacturer, ask for a demo and see it from a source.
Wake Features
Another important feature you should look out for is the boat's wake features. Every water sport has its fitting wake type.
If it is wakeboarding, you need a sizable and energetic wake. If you are opting for skiing, all you need is a smooth wake. The finest ski vessels should generate a multi-performance to boost versatility and performance.
Instead of purchasing a dedicated vessel, you should opt for a multi-purpose boat that supports various wake features.
Cost
The cost is not the most reliable gauge for the best ski vessel. Unaffordable boats are pointless and inflexible. So, we suggest that you opt for a vessel that is kind to your pocket and matches your needs.
Note that the more advanced technology it has, the more it will cost. The storage and maintenance costs should also play a vital role in estimating what kind of vessel falls within your budget. With the right estimation, no one ever has to break banks.
Crossover Strength
It is not a difficult enterprise to find vessels dedicated to skiing. But a problem always arises when you want a versatile ski boat. Perhaps, you want something that can work for several water sport variants.
In some cases, you will likely find these multi-purpose vessels, but they consume more funds. The drawback is that boats tailored for water sports can hardly serve other purposes.
Skiing Spot
Another thing you need to note is the place where you will use your vessel. Do you intend to use it in the lake or ocean?
Note that vessels made for skiing don't function well in the stormy waters. They are synchronized for windless waters.
We suggest that you purchase a crossover vessel that can serve a dual purpose. Opt for a ski vessel with a stern and tower that generates deep waves for wakeboarding. By doing so, you have a boat that is suitable for both kinds of stuff.
Most dealers allow individuals to fine-tune their boats to their preferences.
Select an Established Brand
Make sure you reach out to manufacturers with an excellent proven record. The ten products mentioned in the guide are a great way to start. They have stood the test of time.
Sum It Up! The Best Boat for Fishing and Skiing
The best fish and ski boat for the money is the Alumacraft. In this artticle, we discussed the best fish and ski boats in 2023 and how to choose the best option for you. Hopefully, this article gives you enough information to confidently make your ski boat purchase!
P.S. Don't forget your boat and fishing tackle insurance!
---
Best Fish and Ski Boats FAQ
What are the best fish and ski boats of 2023?
Alumacraft Trophy 175
Ski Nautique
Malibu Response TXI
Nautique 200
Prostar 2023
Supra SR
Nautique Coastal 2023
Chaparral SSI
Tige 20 RZX
Mastercraft XT21
What Kind of Ski boat is the best for tournaments?
One of best ski boats for competition is Tige's RZX. It has a special hull that generates a quick slalom wake. The speed level stretches from thirty-five to thirty-six miles per hour. That way, you can dominate your tournaments.
What's the best ski boat for fishing and family time?
Chaparral manufactured the "19" edition for this purpose. With this boat, you can transition from fishing to a day out with your family in a jiffy!
About Post Author