The Abu Garcia Veritas rod and spinning, baitcasting, and ice fishing reel combos are excellent options if you're new to angling or due for an upgrade. They are balanced, properly weighted, and budget-friendly casting rod and reel combos for just about anyone. While the market has tons of options to consider, the Abu Garcia Veritas Casting Rod shines brightly as one of the most exciting 2023 options.
If you want to know more about the baitcaster combo (also check out our Abu Garcia Black Max X baitcaster review here), you're in for a treat! In today's article, we'll walk you through a brief guide with everything you need to know about the next generation of Veritas rods and the reel combo (we also review the best bass fishing rod and reel combos here) from the renowned Abu Garcia to figure out whether it's the ideal option for your needs.
We'll explore why this line of Veritas rods stands out among beginner and experienced anglers. You'll learn why it's great for lighter lures, the features of its casting system, the importance of its titanium alloy guides, their distinctive rod blanks, and its standout powerlux technology. Let's dive right in!
For quick reference, immediately below are the popular Abu Garcia Veritas rod, the Veritas spinning rod and reel combo, and the Veritas baitcasting rod and reel combo.
Sale
Sale
About Abu Garcia
The best way to start our guide is by walking you through a brief overview of the folks behind the Veritas casting rod and reel. Learning more about the history of a company will give you an insight into the level of quality and experience the manufacturers have under their belt.
Abu Garcia is originally a Swedish company founded in 1921 as "AB Urfabriken." Back then, the company wasn't focused on a specific item and used to make watches, among other things. However, this all changed when the son of the founder, Göte Borgström, took over and began producing Abu Garcia custom rods.
Göte was a highly experienced fishing enthusiast, so he directed the company to focus on making fishing gear. Thanks to his knowledge in the field, the company grew fast and started exporting to many countries, including the United States, through the American Garcia Corporation.
The Abu Svangsta/Garcia partnership grew even stronger when the American company acquired its partner and changed the company's name to "Abu Garcia." Today, the company is one of the most reputable in fishing gear. Some excellent products carry their name, such as the Ambassadeur line of baitcaster reels, the new veritas rod family, and several lightweight medium-heavy high-quality rods.
What to Look for in a Great Rod and Also Rod and Reel Combos
Whether you're buying a medium-light fishing rod or going for a rod and reel combo, you should always try to make the most informed purchase.
To achieve this, there are a few aspects that you always need to keep in mind while buying fishing gear. Let's have a quick look at those aspects:
The Price and Warranty
If you've been shopping for a rod and reel combo for a while now, you've probably noticed that they are offered in a wide price range.
For instance, a simple rod and reel combo with decent quality for entry-level anglers can cost you as little as $50. However, if you want a higher quality option, you should expect the rod and reel combo to set you back up to 600 or even 700 bucks.
Of course, the more expensive the item, the higher the quality and longevity. However, you should also factor in the warranty policy of the product you're buying, as it adds massive value to your purchase.
Performance and Specifications
Another thing to look for while buying a reel combo is the materials and performance specifications of the item.
Different specifications make the combo suitable for different types of techniques and fish. While buying a combo, always look at the specifications and make sure they match your fishing style.
For example, if you're looking for a suitable combo for drop shot fishing, you need a rod with a fast action so that the tip is soft and delivers vibrations to your hand quickly.
Overall Design and Variety of Options
Specifications aren't the only aspects that may vary among casting rod and reel combos. In fact, even within the same product, there can be various options that will suit different anglers based on preferences or requirements.
For example, you should look for the rod and reel combo handling and make sure that it's right or left-handed, depending on your preferences. The same applies to other aspects, such as rod length and other design options.
5 Advantages of The Abu Garcia Veritas Rod and Reel Combo
If you're wondering why the Abu Garcia Veritas Rod and Reel are a great pick, here are the top 5 advantages of the combo:
1. Excellent Value for the Money
The Veritas is on the pricier end of the scale for Abu Garcia's broad range of rod and reel combos (learn about the champion-named Abu Garcia Jordan Lee Baitcaster Combo here).
However, this combo delivers excellent value and high quality, making it a worthy competitor to even pricier options.
2. Incredibly Durable and Fast
Carbon fiber is easily one of the best materials to increase a fishing rod's strength and offer greater sensitivity. But despite being lightweight, some rods can easily snap under pressure and with heavy use.
To overcome this problem, Abu Garcia blank material uses a unique blend of carbon fiber, a distinct resin system, sublayer armor, nano particles, and light zirconium inserts to make the fishing rod lighter while boosting its durability by up to 15% compared to average rods on the market!
3. Aesthetically Pleasing Design
The design of the new rods is a significant feature for those who like attractive fishing rods and take pride in their stylish fishing gear.
The Abu Garcia Veritas spinning rod is primarily white with gray accents around the handle area. It features an ergonomic reel seat for stability and ease of use that complements the style of the rod.
4. Highly Versatile Option
Different power ratings and rod lengths can significantly impact the rod's performance and its uses when it comes to rods.
Luckily, Abu Garcia offers the Veritas combo in various options, including rod lengths, line, and lure rating, the number of pieces, handle positions, and more!
5. Super Comfortable Grips
The grips of this Abu Garcia Veritas casting rod are made of closed-cell EVA foam, called advanced polymer dri-tac grips, instead of the classic cork.
What's great about this approach is that the high-density EVA foam is much softer and more comfortable to hold on to without reducing the rod's sensitivity.
Moreover, EVA foam is naturally resistant to corrosion from salt water and wear and tear due to weather or consistent use.
What You Should Consider Before Buying
Here are some of the things you should consider before buying a good rod and reel combo:
The Rod Materials
Rod and reel combos are made of various materials. Ideally, it would help to focus on rods made of carbon fiber or graphite and carbon fiber because they're durable and lightweight.
The sturdier the fast action rod, the easier it will be to deal with stubborn and large fish species without snapping. As for the weight, a lighter rod is always essential for better maneuvering and control. Medium-heavy rods are also great so make sure to feel both before purchasing.
The flexibility provided by the carbon fiber and soft plastics also makes the fishing rod a lot more sensitive to the slightest changes around the bait (find the best buzzbait for bass here), which results in a more efficient catch.
The Reel and Gear Ratio
As for the reel, the first thing to consider is the quality of the ball bearings and internal components.
These should be corrosion-resistant materials, such as stainless steel and brass.
The spool should also be made of lightweight material like aluminum so that it doesn't affect the rod's balance.
The reel's gears should always have a proper ratio that suits your fishing technique. For example, the ideal gear ratio for most fishing techniques is between 6.2:1 and 7.1:1.
The Sizes Offered
The rod length is measured from the rod's tip to the end of the handle and can significantly impact your casting abilities. A shorter rod is ideal for casting a smaller distance and vice versa.
Luckily, the Veritas rod is available in different sizes, 6 ft 6 inches, 6 ft 9 inches, and 7 ft, so you can pick the one that will work best for you.
The Abu Garcia Veritas casting rod is one of the most popular options. In fact, it can be used with a wide range of reels (learn about the different reel types here) and in different fishing techniques. This design makes it a must-have for any beginner or experienced user who wants a versatile rod in their inventory.
In terms of price, the Abu Garcia Veritas rod is still considered an excellent value for the money, although it can be a little on the pricey side.
The rod is made of carbon fiber blank and fortified with Abu Garcia's Powerlux resin, an advanced material that is incredibly lightweight without sacrificing durability.
In fact, according to Abu Garcia, this material is up to 15% sturdier and 5% lighter in weight (learn about fishing rod weight rating here) than the average carbon and composite rods.
In addition to the Powerlux resin, Abu Garcia also uses titanium-alloy guides and zirconium for the inserts, an incredibly lightweight material.
Thanks to these material choices, the durable rod is less than 0.24 lbs, making it one of the lightest casting rods on the market without affecting the balance or weight distribution of the rod.
The guide train and casting systems are also robotically optimized to provide maximum casting distance using lightweight lures.
The Veritas rod is available in one-piece and two-piece construction and fast action tips, which helps deliver every twitch and vibration from the fishing line (learn about the best fishing line for bass here).
Sale
Sale
The Veritas Casting rod and reel combo offer the premium Veritas rod and an impressive reel made from carbon fiber.
The reel has ten ball bearings that are made from stainless steel in addition to an extra roller bearing that is made of premium quality brass.
This design gives the reel an incredible advantage when used in challenging water conditions. The overall construction of the reels gives it a gear ratio of 6.2:1, which is a sweet spot ratio that works very well with various techniques, including drop shot fishing.
The Veritas reel also has a Matrix drag system that offers consistent pressure throughout the drag range, with a maximum drag of 20 lbs or 9.0 kg.
The reel spool is aluminum and features an infinite brake system and an instant anti-reverse system to improve your efficiency while catching a stubborn fish.
We also like the retrieve rate on this model, which is around 31.3 inches or 79.4 cm with a mono capacity of 185/6, 130/8, and 110/10 or 225/6, 175/8, and 140/10 depending on the model.
The reel on the Veritas is an ideal choice and is designed to handle anything from medium-light to medium-heavy action, depending on the model.
This makes the combo capable of handling lures up to 1/8 to 1/2 ounces with a line rating of about 6 to 12 lbs (2.7 to 5.4 kg) and 1/4 to 3/4 ounces with a line rating of about 8 to 14 lbs (3.6 to 6.3 kg).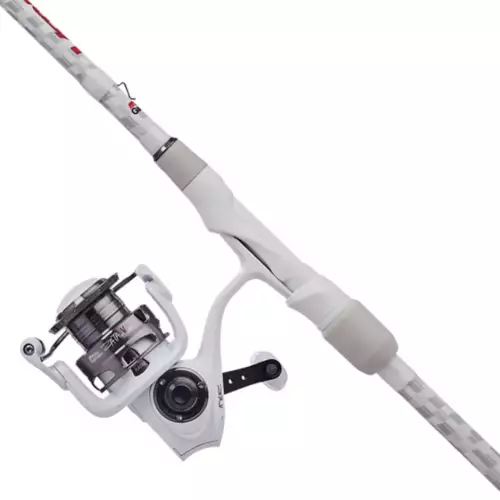 Abu Garcia Veritas Rod and Reel Combo FAQs
Where Are Abu Garcia Products Made?
Back in the day, almost all Abu Garcia products were manufactured in the company's facilities in Sweden. Many of them are still made in Sweden today when it comes to high-end products.
However, to keep the cost of these fishing gear affordable for most anglers without compromising quality, most of the Abu Garcia budget-friendly products nowadays are made in Asia, particularly China, while undergoing a rigorous quality control process.
How Long is the Warranty Offered on the Veritas Combo?
The Abu Garcia Veritas Combo is backed by a limited three-year warranty, which is a bit underwhelming compared to some other options on the market that offer more extended warranty policies.
However, most Abu Garcia's products are usually highly affordable and remarkably durable for their price class, so they remain an excellent bang for the buck even with the limited warranty!
What People Are Saying About the Abu Garcia Veritas Rod and Reel Combo
Below are a few comments from reviews found on our favorite fishing forum.
-Bought this for a friend as a birthday gift. He LOVES it. Great value for the money, and he tells me the action is smooth and the rod is not too stiff. He uses it for largemouth bass competitions in the Clearwater, FL area.
-Excellent for split rigs, a heavier lure weight, and drop shot
-Love the 1-piece graphite frame and weight ratio
-The rocket spool lip design is as good as more expensive rods, with maximum performance
-The high-performance reel pairs nicely with the rod and rocket line management system
-One of my favorite products, I bought this for my son with free shipping for christmas, and he absolutely loved it!
-Love this fishing pole setup and I'm a pole junkie and buy a lot of different ones, and this is by far one of my favorites
About Post Author