If you're looking for a quality baitcaster combo in 2023, you probably think that such an item will set you back a pretty hefty sum. While some of that is probably true, there are still some excellent options that offer premium rod and reel parts for a surprisingly reasonable price!
This article will introduce the Abu Garcia Black Max reel, rod, and combo, fishing products that surpassed our expectations in terms of value for money!
Abu Garcia is one of the prominent fishing rod and reel brands (see our favorite bass fishing rod and reel combos here) out there, with some of their fishing gear used by elite professional anglers. If you're interested in finding out more about this product, whether the reel alone or the combo (see the best rod and reel combo for catfish here), you've come to the right place with our Abu Garcia Black Max review.
About Abu Garcia Fishing Products
One of the best ways to assess the quality of any product is to perform a quick background check on it. So, before jumping into the juicy details of today's review, let's start by looking at the folks behind the Black Max X Rod and Reel Combo.
When the Swedish company was founded in 1921 as "AB Urfabriken," it didn't make fishing rods. However, when Göte Borgström (the company's heir) took over, he changed the company to "Abu Svangsta" and shifted the company's activity to making fishing gear.
As a fishing enthusiast himself, the company had the right tools to succeed quickly, which encouraged the American Garcia Corporation to import their products into the US. By the 1980s, the Garcia Tackle Company acquired the former and changed its name to "Abu Garcia."
The company has been acquired several times by various parent companies, but it kept its name and quality throughout the years. Abu Garcia has many great products, but the Ambassadeur line of baitcaster reels remains one of their finest and most popular.
If you're only interested in the Abu Garcia Black Max casting reel, you'll be delighted to know that Abu Garcia offers (see our in-depth review of the Abu Garcia Veritas casting rod and reel combos here) the new reel as a product that can be purchased separately.
The lightweight reel of the Black Max X is incredibly well-designed thanks to its one-piece frame and side plates that are made from graphite for maximum performance. This doesn't only retain its durability, but it also keeps the entire reel lightweight and easy to control.
Similar to other higher-end reels, this allows it to handle heavy use without corrosion or breaking down while weighing less than 10.2 ounces.
In addition to the graphite frame, the reel also uses lightweight metals like aluminum while designing essential parts of the reel, such as the machined spool.
This is considered somewhat decent compared to the price of the reel, although it can feel a little heavy if you're casting a light lure.
The reel has a four-stainless ball-bearing system and a roller bearing with Abu Garcia's Duragear mechanism for a smoother operation.
This extra gear is made of premium brass, which gives it an incredible advantage when used in challenging water conditions, such as fishing in oceans and saltwater (see different types of freshwater and saltwater lures here).
The overall construction of the reels gives it a gear ratio of 6.4:1, which is a versatile ratio that suits various techniques.
The Power Disk drag system makes it very easy to retrieve the line and takes the hassle out of the process with a retrieve rate of 25 inches or 64cm with a mono capacity of 12 lb/120 and braid capacity of 30 lb/120.
Additionally, the reel is also equipped with a MagTrax system, a magnetic brake that gives you better control of the reel and improves your casts' range and accuracy.
Some anglers noticed that the paint on the reel might chip away with time, but this shouldn't be a problem since it's made of corrosion-resistant materials.
The reel is also equipped with polymer knobs with a recessed design and bent handle for easier control and better grip, although they might feel small if you have large hands.
All in all, the tensioner and the reel's drag are great. It has a maximum drag of 15 lbs or 6.8 kg, but the reel isn't super smooth and lacks that click of top-shelf options, yet, the whole reel will do for most users without any issues.
The Abu Garcia Black Max X is one of the most popular options at its price range. In fact, at such a price tag, the baitcast combo (learn about the best baitcaster for beginners here) is considered one of the best kits when it comes to value for money.
This combo offers the Black Max X reel and a special rod with various rod options. For instance, the Max X 701MH features a rod that is 7 feet long.
This one is designed to handle medium-heavy action, which can take lures up to 3/16 to 1 1/2 ounces with a line rating of about 10 to 20 lbs (4.5 to 9 kg), such as bladed jigs and buzz baits.
With such a rod, you'll be able to catch relatively large fish, such as large catfish and saltwater bass, pike, walleye, and similar-sized fish!
Additionally, the Max X 662M and the Max X 661M rods are both medium power rods ideal for most common rigs and lures designed to catch average walleye and bass.
These rods are 6 feet and 6 inches and feature a line rating of about 8 to 15 lbs (3.6 to 6.8 kg).
In general, the rods available in the Black Max X combo are pretty reliable and incredibly durable, even for those on a tight budget. All that while remaining lightweight and easy to control for a beginner or professional angler catching large stubborn fish (check out our favorite fishing hacks here) that like to put out a fight.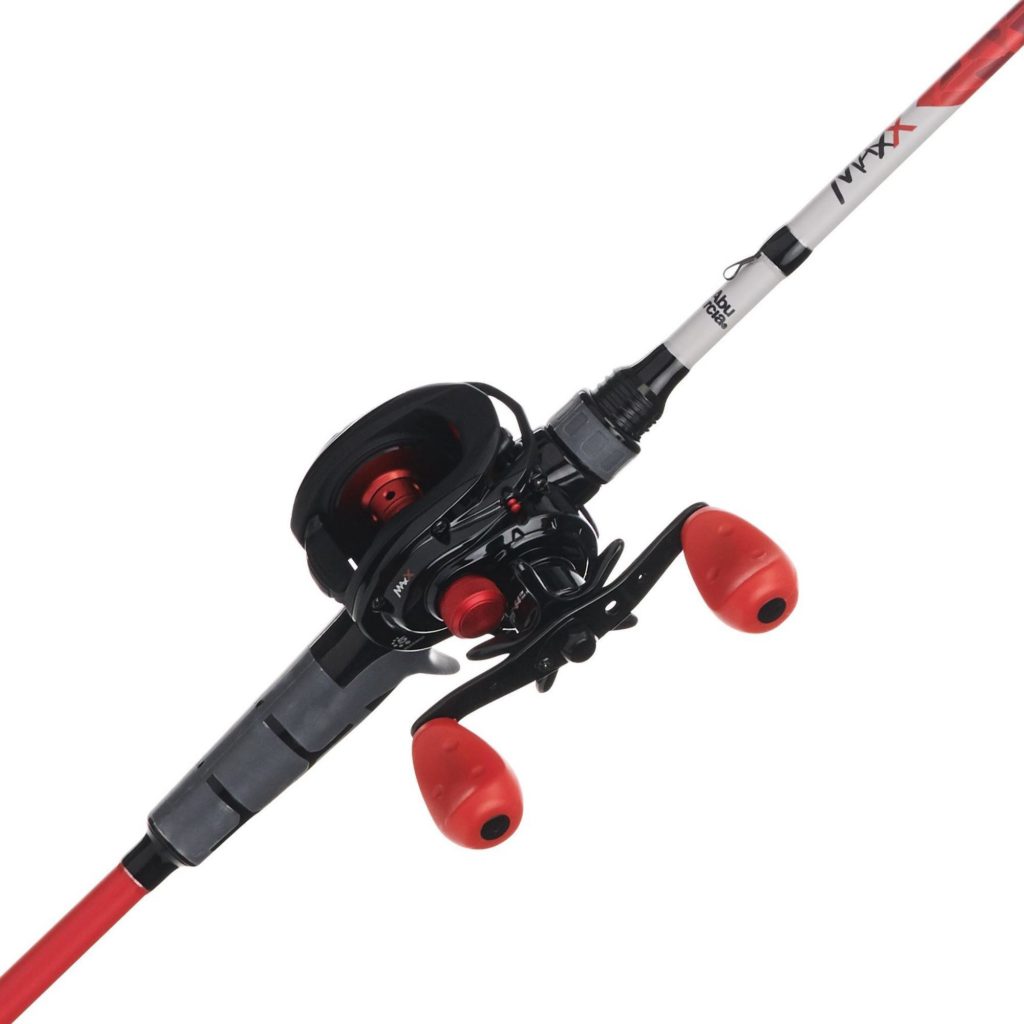 What To Look For in Rod and Reel Combos
Buying a rod and reel combo can be tricky (view our favorite rod and reel combo for walleye ice fishing here), especially if you're a beginner who doesn't know where to start or what to look for while buying such a product.
As a general rule, a few essential aspects are shared among all rod and reel combos out there.
Regardless of the product, you're going to buy, always keep an eye out for the following aspects and points of comparison to land your perfect fit:
Price and Value for Money
There's a world of options in a vast range of prices for rod and reel combos. For that reason, it's hard to set a specific price tag for such a product.
Yet, these items usually come at specific price ranges depending on the quality of the materials and construction, so you'll always have various options depending on your set budget.
For example, some baitcaster combos out there will come at around $50 to $75, which are considered entry-level options and suitable for buyers on a strict budget.
On the other hand, higher-quality options will usually cost a bit higher and set you back up to hundreds of bucks. Yet, you can still score some excellent bargains that offer quality while costing you less than $100.
Design and Adjustability
Another general aspect to always keep in mind while choosing a baitcaster combo is how it's built. Ideally, rods with different power ratings are designed to catch different-sized fish.
For example, light to medium action rods are better suited for small fish (learn about fishing rod weight rating here), while medium to heavy action rods are ideal for larger fish like pike, catfish, and saltwater bass.
Performance and Quality
The performance of a baitcaster combo is usually the primary benchmark of its quality. There are plenty of aspects and specifications that determine rods' quality.
The most critical factors are gear ratio, brake and drag systems, and casting assistance. But more about these aspects while discussing the features of the Black Max X.
5 Advantages of the Abu Garcia Black Max X Rod and Reel Combo
There are plenty of reasons why the Abu Garcia Black Max C combo is a great pick. In this section, we'll discuss the top 5 advantages you get with this item:
1. Remarkably Sturdy and Reliable
Abu Garcia's gear is known for its sturdiness and reliable performance, which allows them to handle continuous use without breaking down.
The Black Max X rod and baitcasting reel are made of a lightweight graphite body, stainless steel, brass, and aluminum, among the best materials in their class (learn about parts of a baitcasting reel here). Other features include great line capacity, a compact design, a one-piece graphite frame, a rocket line management system, a recessed reel foot, and an ergonomic design perfect for novice anglers.
2. Affordable Price
Ideally, professional anglers usually use high-end gear that can set you back up to hundreds of dollars.
Despite costing a fraction of that price, Abu Garcia Black Max X bait casters hit a great price point and still offer a surprisingly decent performance that will give some higher-end options a run for their money!
3. Offers a Variety of Options
In addition to providing great value, the Black Max X comes in a wide range of options that suit different users. For example, the combo comes with various rod powers and lengths.
Not only that, but the reels are also available in both left and right-handed orientation to suit all kinds of anglers out there interested in catching big fish.
4. Cool Design
Despite all the features available in the Black Max X combo, Abu Garcia didn't compromise when it comes to aesthetics. The compact bent handle, lightweight graphite frame, and machined aluminum spool look fantastic and create a smooth casting experience.
In addition to all this quality and precision, the reel comes in an attractive design of red and black, whether you're going for the newer or, the older design.
5. Suitable for Different Fishing Techniques
Last but not least, the rod and reel combo is designed to be used in a wide range of fishing techniques.
This design makes them an excellent pick for both beginners (see additional spincast rods for beginners by Zebco here) and seasoned anglers that like to experiment with various fishing techniques without having to switch gear.
What You Should Consider Before Buying a Baitcasting Rod and Reel
Materials Used
The first thing you need to look for while buying a rod and reel combo is the quality of the materials used in their construction.
Most fishing rods are currently made of graphite, carbon fiber, and fiberglass, although bamboo is still relevant as a construction material.
Ideally, a good baitcaster rod should be lightweight for easy maneuvering and durable to resist snapping. Graphite rods are among the best options that strike an excellent balance between these two aspects.
The Ball Bearings
The stainless steel ball bearings help to resist corrosion and the spool is usually aluminum to keep the reel system lightweight.
Other parts of the rod can be made of different materials, such as the handles, usually made of polymer for an enhanced grip.
Gears
The gears play a significant role in determining the performance of the reel. While buying a baitcaster combo, always check the gear ratio. Ideally, the sweet spot that works for various fishing techniques is around 6:3:1 to 7:1:1.
More Great Abu Garcia Rod and Reel Combos to Consider
Sale
Sale
Abu Garcia Black Max X FAQs
Does Abu Garcia offer a Warranty on the Black Max X?
Like most products by Abu Garcia, the Black Max X combo is covered by a warranty policy. Pure Fishing Ltd usually offers this warranty and covers repairing and replacing malfunctioning parts of the baitcaster combo.
Abu Garcia's after-sale services are quite reputable for their quick response and flexibility. However, the warranty might feel a bit limited and short (1 to 3 years) compared to some other options on the market.
Is the Black Max X Available for both Left and Right Handed Users?
Yes, the Black Max X is available for both left and right-hand orientation in box and clamshell. However, you'll need to specify that while making a purchase.
Are Abu Garcia Reels Still Made in Sweden?
The manufacturing country of Abu Garcia products may vary from one product to another. Most of their high-end products are still made in Sweden, but budget reels are usually made in China while undergoing rigorous quality control.
About Post Author